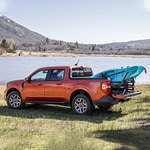 The Ford Maverick is another Ford truck here at McClary Ford in Athens, AL that comes with a slew of cutting-edge technological features. For safety, the Ford Maverick comes standard with a Lane-keeping system. This is an important safety technology for the truck. It works to help the driver maintain their lane by alerting them when they are on the wrong side. If the truck deviates from the lane, then the driver is alerted and given a chance to correct their mistake early enough to avoid an accident.
The central console of the Ford Maverick features an 8-inch touchscreen. This makes it simple for the vehicle's occupants to use many functions. You don't have to take your attention away from the road to use the navigation system or the music player.
Apple CarPlay and Android Auto are both built into the 8-inch touch screen. Apple CarPlay and Android Auto offer various services, including navigation, messaging, music, and more. Siri Eyes Free, turn-by-turn directions, message read and reply, and traffic information are a few of the valuable features available through Apple CarPlay.