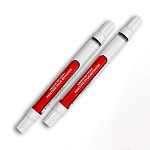 If you intend to apply touch-up paint to your vehicle, it's important to be fully prepared for all that this project entails. At McClary Ford, we've worked with countless Athens, AL drivers who accidentally caused more problems than they solved when tackling this task alone. This is why we're sharing three things that everyone should know ahead of time.
You Must Apply More Than One Layer
Even a tiny paint chip requires several coats of touch-up paint. Moreover, each coat should be a thin, ultra-fine layer. Only after an individual layer has completely dried can you put a new one on.
There's Sanding Too
No matter how carefully you apply your layers of touch-up paint, you'll have to finish the job with a bit of sanding. This is done to ensure that the edges of your repair lay flush with the paint that surrounds it.
Color-Matching Isn't Always Straightforward
Finding the right color could be as easy as presenting the paint code for your vehicle's paint color when ordering. However, for vehicles with two-tone paint, metallic paint colors, or custom paint, there's a very high likelihood that no paint code exists.