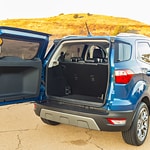 The new 2020 Ford EcoSport is filled with features that make it an exceptionally capable compact SUV. Regardless of the type of driving you do around Athens, AL, the EcoSport can safely and comfortably get you and your passengers to your destination. McClary Ford can show you the differences between various models of the EcoSport.
To make it easy to carry either passengers or cargo, the EcoSport comes with folding back seats. It also has an advanced adjustable rear load floor and shelf system that will make it simple to customize how you store your belongings. For increased storage, you can upgrade with a Cargo Management Package.
The swinging rear door makes it easy to load and unload any cargo from the EcoSport. You won't have to stretch to reach the door or duck to load items into the vehicle.