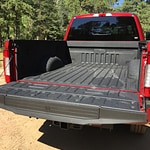 Want a heavy-duty truck that can last? Then you have to see what the Ford Super Duty can offer. This popular heavy-duty truck is designed to keep up with your life. Let's take a look at some of the top durability features.
The Ford Super Duty has upgraded its box design to give it a high-strength steel construction. That makes that box 24 times tougher than the previous generation. Putting heavy loads on your Super Duty's bed won't be a problem. The entire body of the Ford Super Duty is made from high-strength, military-grade, aluminum-alloy. In fact, it is the only heavy-duty truck in its class with such a military-grade body construction. You can rely on the Super Duty to outlast the competition.
Get more from your heavy-duty truck. Take the Ford Super Duty for a test drive at McClary Ford in Athens, AL. You're going to be blown away by this amazing truck.